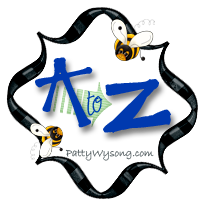 With celebrating Patriot's Day on Wednesday, I figured it was a good week to have 'H is for Hero'. I can't help but think of the many men and women who risk and sometimes give their lives daily in defense of our freedoms as a Nation, or to save lives through their heroism.
Perhaps I'm a bit more attuned to this with having just witnessed my son perform his final swearing in to become a sailor in the United States Navy and watching him leave on the bus for the airport as he headed off to boot camp. I'm proud of him and his decision to serve in our military. He follows a long line of men who have served in my family and my husband's family: my husband, his father and grandfather, and both of his brothers, my Dad and my brother. They've represented multiple branches between them - Navy, Army, and Air Force.
Thank you to all who have served and are serving in the military. Thank you for those who serve each day as fire fighters, policemen, and other professions that every day are heroes.